RFH '22 Halloween Parade/Party
updated 10/24/2022 9:35am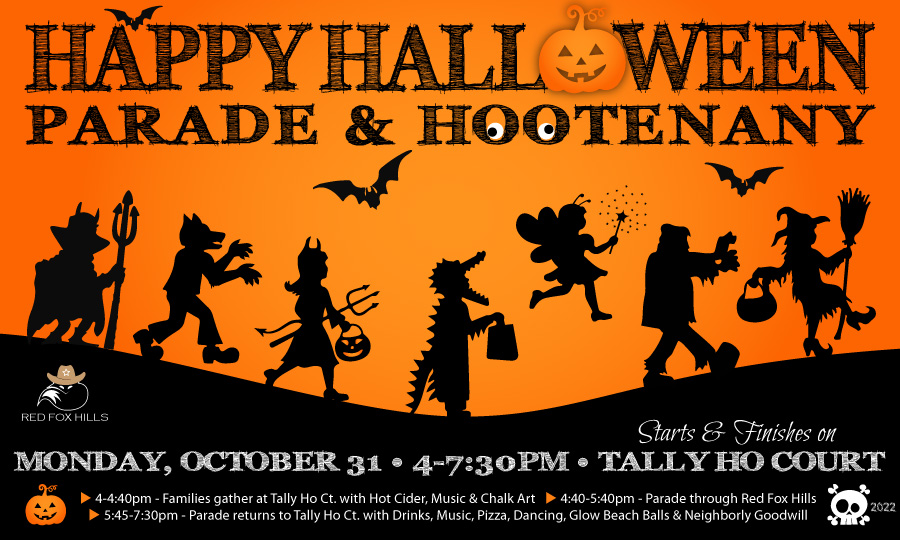 *Share Your Suggestions/Feedback with the Organizers!
Paraders/Partiers:
Gather at the end of the Tally Ho Ct. cul-de-sac between 4:00 - 4:40pm. Grab a drink, decorate with chalk. Parents are welcome to take a beverage for the road :)
We'll have disposable mugs/cups but BYOC (cup) if at all possible!
Parade lasts an hour. Route below.
Pizza will hopefully arrive @ 5:45pm. Baby carrots, grapes and mini cucumbers as well. Should be enough 'za for adults depending on attendance.
Triple campfire and dance party.
Spectators/Tailgaters:
You know what makes a parade a parade? A streetside crowd, that's what! That's you! Bring it!
Post/bundle up outside your house, bring a noisemaker, blast some Halloween tunes, cheer on the kids and pass out (or layout) your chosen Halloween goodie to all the grateful children as the parade passes. Route map below!
We'll be back at TH Ct. around 5:45pm. C'mon down for a drink 'round the cul-de-sac campfire(s) if you like!